Why are Comfortable Shoes Important for Cricket Players?
The Balls
Why are Comfortable Shoes Important for Cricket Players?
Shoes are an easy way of shuffling your wardrobe. They are also a good indicator of your sense of style and deliver an important fashion statement. But that's not the case with Sports shoes. Sometimes, sports shoes also bring some discomfort and pain while walking, running or playing sports, say for example while playing cricket. 
A part of wearing uncomfortable cricket shoes includes experiencing a restriction in movement, tiredness, and sore feet. Batsmen over the years have often complained that wearing spikes on the heels of their cricket shoes when batting can often be detrimental to the speed of their footwork.
The best cricket shoes are the ones with spikes for a better grip but do not compromise on your health while wearing them. One must avoid wearing uncomfortable cricket shoes that can have a negative impact on the footwork of the batsman, which plays the most important role in scoring runs.
Here are the 5 most important points that a cricket player should consider before deciding the type of cricket shoes to put on:
1. Choose the Right Cricket Shoes for You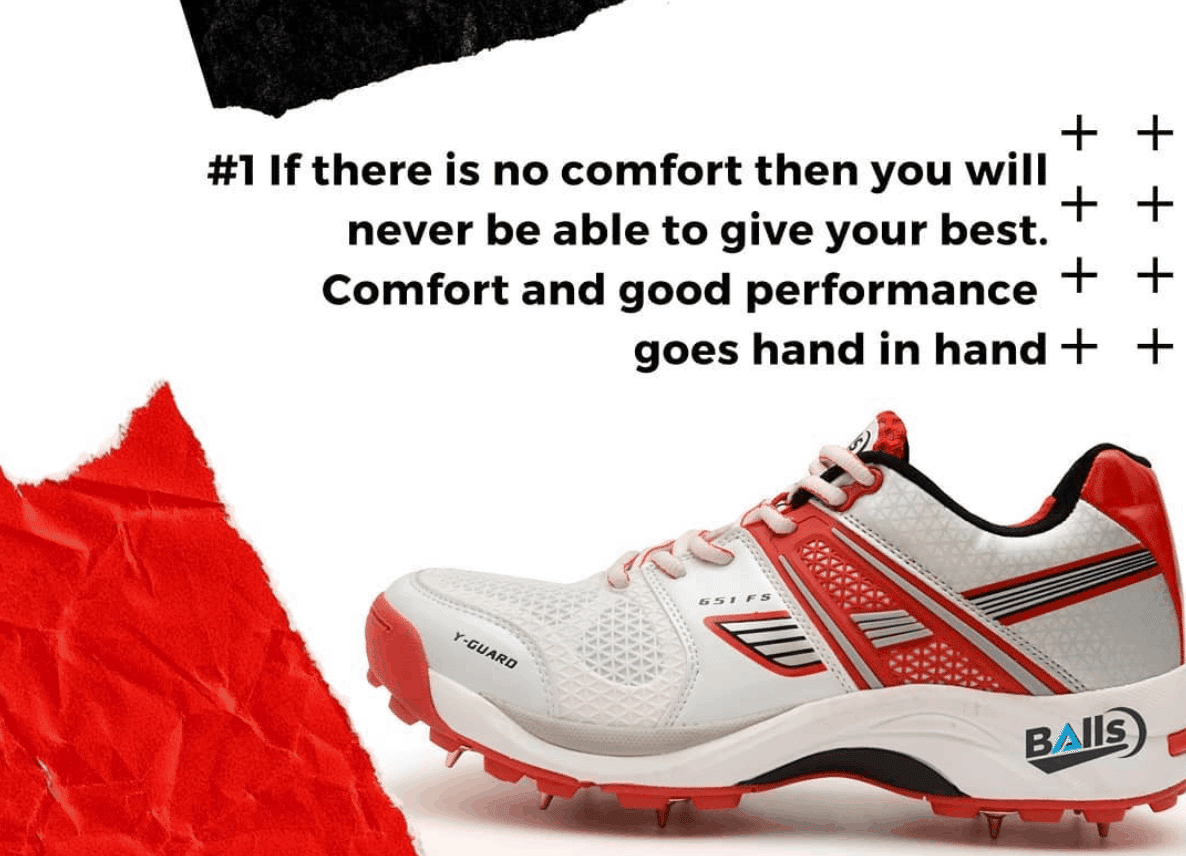 You should realize what your feet are trying to communicate when a sore blister forms at the bottom of your foot. The type of spike shoes that you are wearing probably not suit well for your feet. 
It is best to choose a cricket spike shoe that fits the natural shape of your feet and enhances your footwork, if you are a batsman. Comfortable shoes that do not tighten will prevent frequent foot problems from occurring. When searching for shoes, it's crucial that you give them a test run rather than being sorry in the long run.
2. Comfortable Shoes Help in Maintaining Correct Footwork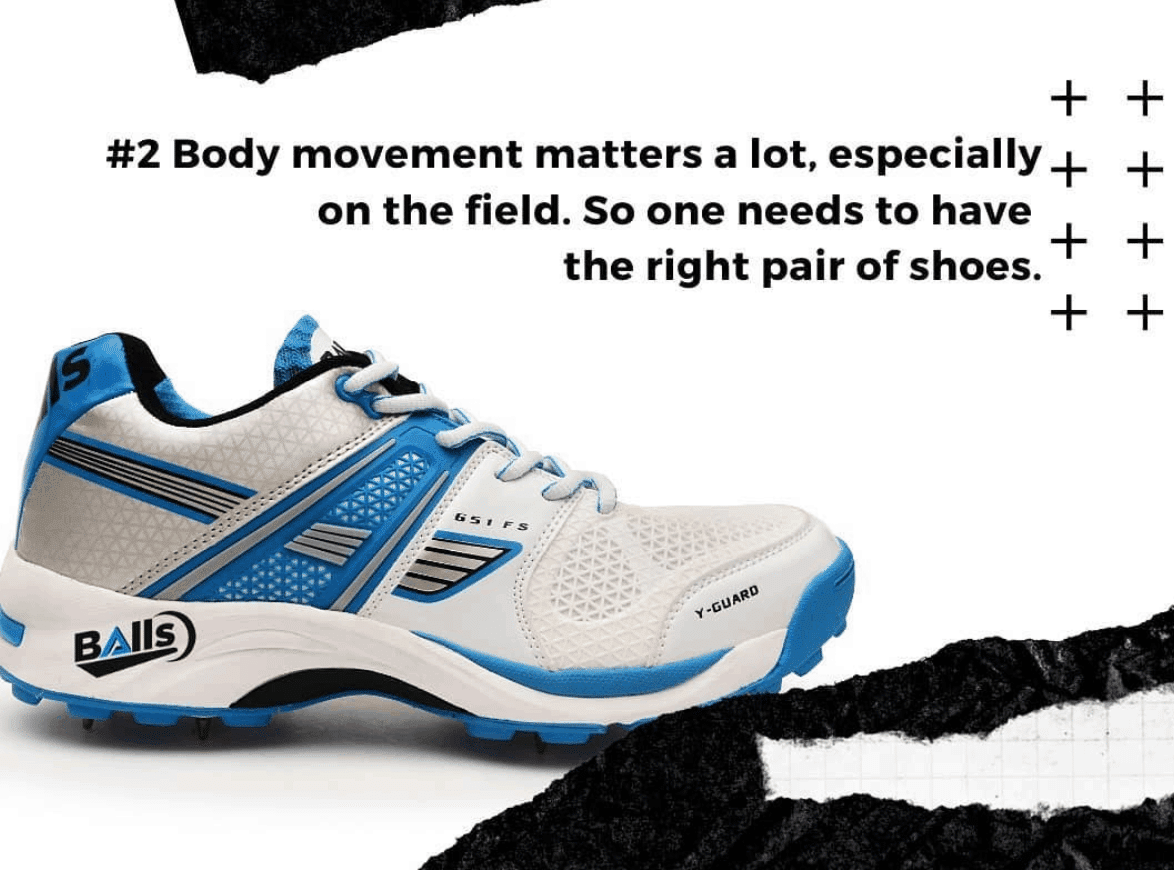 Choice regarding the footwear should depend upon the type of surface you will be playing on. Shoes with spikes are good for playing on the soft ground whereas rubber soles are better for hard ground. There are shoes available in the markets with both spikes and rubber soles.
There are also many cricket spike shoes available in the market. Which are loved for their style but are highly tight and uncomfortable. Such tight shoes can have a terrible effect on your footwork and can cause a lot of problems while excessive walking or a mere running on the field. 
While wearing sports shoes which are tight, people complain regarding the pain between their third and fourth toe. Wearing the right kind of cricket shoes can exponentially decrease the risk of getting injure on the field. 
3.Your Feet can Develop Corns
If you are not wearing comfortable cricket shoes, it can lead to the creation of corns at the pressure point of your feet. They are not only painful but also get a form of treatment which can take a long time before it gets cured.
Batsmen usually prefer the shoes having spikes at the front for grip and rubber treaded heels. Bowlers, especially those who bowl fast, have shoes with spikes at the front and back with extra support around the ankle.
Shoes and health are linked to one another and it is important that you do not forget about the relationship. It is better to find a pair of cricket spike shoes that fit and keeps your feet comfortable even while adjusting your footwork, which needs a good presence of mind. 
4.Improved Posture
Uncomfortable cricket shoes can prevent you from walking or running properly in the field forcing the natural position of the foot while playing. If you are wearing comfortable shoes that suits your feet, you can maintain a natural posture without affecting muscles and joints. 
While moving forward in the front foot or backward while playing a short delivery, if the footwear is not light and comfortable, you would not be able to perform well.
Nobody likes to feel uneasy on their feet and it becomes important to pick the right pair of cricket spike shoes for a comfortable posture.
5.Better Circulation
Your feet can swell if you wear cricket shoes that are uncomfortable, resulting in bad circulation, making it difficult to walk. Some shoes provide detachable full and half spikes, which help not only bowlers and fielders, but also batsmen.
Wearing the right kind of shoes will make you feel more comfortable when playing on the field. Finding a pair of spike shoes that can support you in all right places can make a difference.
With so many cricket shoe brands on the market, it can get hard to know from where to start. Before you set your foot in the cricket field, the last thing you want to pick is a pair of spike shoes that aren't comfortable. Being at ease throughout your play can be a bliss for your feet and your performance. But also on your overall mental and physical health stay well.
Balls provide premium cricket shoes that come with excellent quality spikes which are light enough to keep your footwork as active as possible. The shoes are designed in a manner that they are soft from the inside but tough on the outside. Ranging from cricketing to running shoes, Balls has got all your needs covered. Balls shoes are fully convertible shoes design for high performance. You have the option to convert full spikes to half spikes and half to full with the help of additional soft spikes available with Balls .  So start your sports journey with comfort and choose Balls!