FRESH ARRIVALS
Buy Latest Full/Half Spikes Cricket Shoes Online – TheBalls
TheBalls presents the finest quality of cricket shoes in the market for professional cricket players that will significantly improve performance on the ground. Our wide range of Cricket Shoes takes into account the peculiarities of the anatomy of the feet and cricket terrain. We are constantly trying to improve production and give everyone complete freedom to choose the right shoes that will not only fit perfectly on the foot but will also fully comply with the chosen sports discipline.
Once you know whether you need TheBalls 651 Full Spikes, try two variants from this category in blue & white and red & white color. Each has its characteristics of the foot, so we use a wide variety of pads to make it easier for you to choose your cricket shoes. If you are comfortable wearing shoes when trying on, then they will be comfortable while playing on the ground. Don't forget about stretching. Remember that well-fitting, comfortable cricket shoes will perform better than poorly-fitting, tight-fitting shoes.
The exclusive features of our products set us ahead in the market. We provide one of the kind shoes with gelnsol cushion, antibacterial insole, TPU stabilizer bar, flextream technology, and many more features.
Finding the best all-rounder cricket shoes is now easy. With your desired top-notch quality, here you can buy the best cricket shoes online at the best prices in India.
PRODUCT FEATURES
Anti Bacterial Insole
Antibacterial insole to prevent against fungus.
GelNsol Cushion
GelNsol silicon cushion at the heel, for comfort and long-standing field job.
TPU stabilizer bar
TPU stabilizer bar for arch support and weight balancing.
Flextream Technology
Flextreme technology gives the right bend at the right time at the time of aggressive running, bowling, and batting.
High performance & Easy to clean
High performance easy clean Upper made of high quality microfiber and TPU.
Ultra cushioning and comfort
Thick padded soft tongue for ultra cushioning and comfort.
Foot Support
High end thermoplastic counter on the side wall of the shoe provides good support to the foot at the time of landing.
TBC turbine blade
TBC turbine blade cleats for motion control.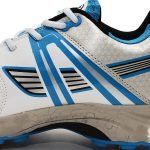 Dual Density EVA
Dual Density EVA midsole for inner foot support.
Full & Half spike
Perfectly designed for fast bowlers, spinner and batsman. Convert your shoe as per your choice.
Y-Guard
Y- Guard: Front Long lip is also designed and stitched with high end thread by keeping in mind the high intensity running and to play the Yorker Balls.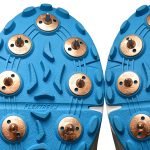 Golden Nails
High End Golden nails , again reflects the elegancy and sincerity towards the great game.
Strong Heel Support
Having Very Good And Strong Heel Stiffener To Avoid The Foot Dislocation.
Toe Guard
Front Long lip is also designed and stitched with high end thread by keeping in mind the high intensity running and to play the Yorker Balls.
Branded Laces
Branding on laces is also reflecting the sincerity towards making craftsmanship and good designing.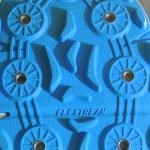 High Quality Rubber
High quality rubber outsole full of flexibility and required hardness as well.
FREE SHIPPING & RETURN
Free shipping in India.
100% QUALITY ASSURANCE
A cost effective shoe with best quality
MULTIPLE PAYMENT OPTIONS
Pay your orders thru UPI, Credit Card, Debit Card, Net Banking, EMI etc.